Despite a significant portion of Brazilians having invested in cryptocurrencies, factors that hinder access to the crypto market have been identified.
Nealy half of Brazilians intend to invest in digital assets in the next 12 months, an impressive number since Brazil has more than 200 million inhabitants. According to a survey commissioned by ConsenSys, a web3 technology provider, Approximately one in five Brazilians currently own cryptocurrencies in Brazil.
The survey, conducted by YouGov, with a sample of 1,158 individuals aged 18 to 65, was made between April 26 and May 18, 2023, across 15 countries:  Brazil, Germany, Argentina, South Korea, United States, Philippines, France, India, Indonesia, Japan, Mexico, Nigeria, United Kingdom, South Africa, and Vietnam. The results provide unique insights into the general public's opinions on the web3 ecosystem and cryptocurrencies.

Brazilian's Relation with Crypto

The research interviewed 1,005 people in Brazil, providing many interesting insights. More than half of Brazilians (59%) have heard of cryptocurrencies and claim to know what they are. Another significant portion (39%) of the respondents states that they know what cryptocurrencies are but are not sure if they understand them. Only 2% of the interviewees have never heard of cryptocurrencies.
In total, 98% of the interviewed Brazilians have heard of digital assets, a number higher than the global average (92%). Furthermore, concepts like Web3, metaverse, and NFTs are well disseminated in Brazil.
"Nearly six out of ten Brazilians understand what cryptocurrencies are. In Indonesia and Japan, only one in three individuals claims to know about crypto," says Daniel Lynch, director of ConsenSys for Latin America
The main factor behind the investments was curiosity (25%), with speculation coming in second place (13%), tied with portfolio diversification. Regarding making new investments in cryptocurrencies, 13% state that they will "definitely" invest in digital assets, while 33% say they will "probably" invest.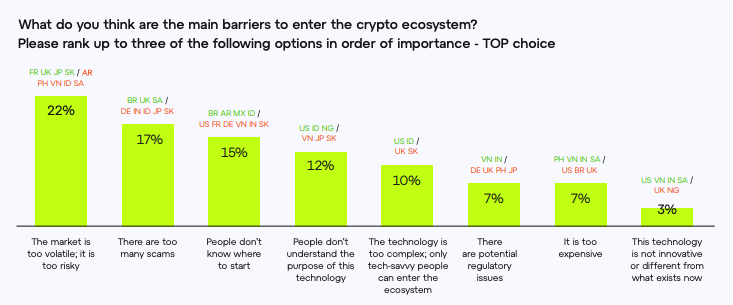 Despite a significant portion of Brazilians having invested in cryptocurrencies, factors that hinder access to the crypto market have been identified. One of them is the complexity of the technology, which was identified as the main entry barrier by 32% of the respondents. This problem may be related to gaps in the user experience and communication of platforms. Furthermore, 50% of the interviewees stated that "not knowing where to start" is also a barrier that makes it difficult to access the digital asset ecosystem.
FTX and other crisis
The FTX collapse was certainly a blow to crypto last year, causing big losses and a lot of fear among investors. More than half of the respondents in Brazil had not heard about the collapse of major cryptocurrency companies in 2022. 55% said they were unaware of the issues faced by companies like Celsius, FTX, and Voyager last year.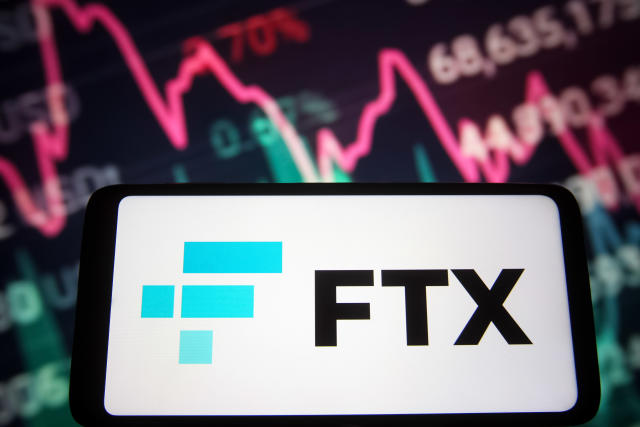 For Brazilians, trust in the crypto market can be built through:
Security measures to prevent fraud, attacks, and theft (23% of respondents).
Greater transparency and accountability from companies in the sector (17%).
User education and communication about risks and best practices (15%).
Improved regulation and supervision of the industry (14%).
Stronger customer support and dispute resolution mechanisms (13%).
Development of reliable and user-friendly platforms (9%).
Collaboration between industry stakeholders, government, and regulators (5%).
Recognition of cryptocurrencies as a legitimate and regulated asset class (4%).

Moving Foward

After reading the data collected by Consensys it's easy to observe that Brazil is a growing market for cryptocurrency and digital assets. The country has just approved a new decree on cryptocurrencies and is even using Agrotokens to modernize its huge agricultural production.
Decred has proven itself as a trustworthy project. The project's community works to build a variety of tech resources and applications, such as Timestamply, DCRDEX, Politeia, and Bison Relay. Decred has a huge opportunity to strengthen itself in the Brazilian market, a ascendent hub that asks for security and education.
Do you think Decred should have specific strategies to dialogue with the Brazilian audience? Any suggestion on how to do it? Leave a comment with your opinion!