Crypto News
The battle for a Spot Bitcoin ETF continues
The SEC can't keep saying no; people will challenge them legally. It doesn't look good to keep losing in court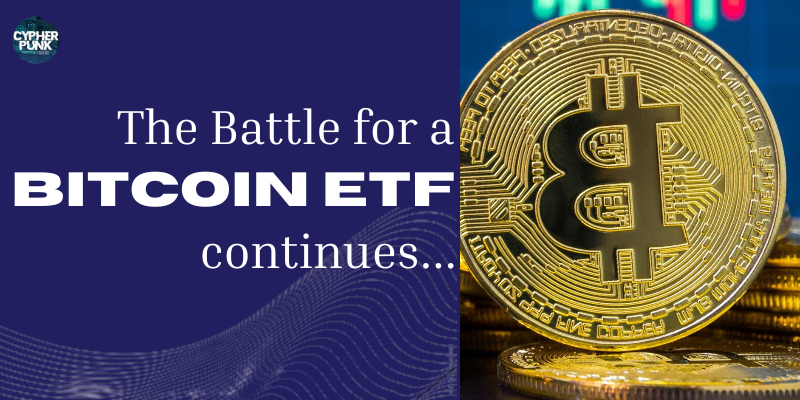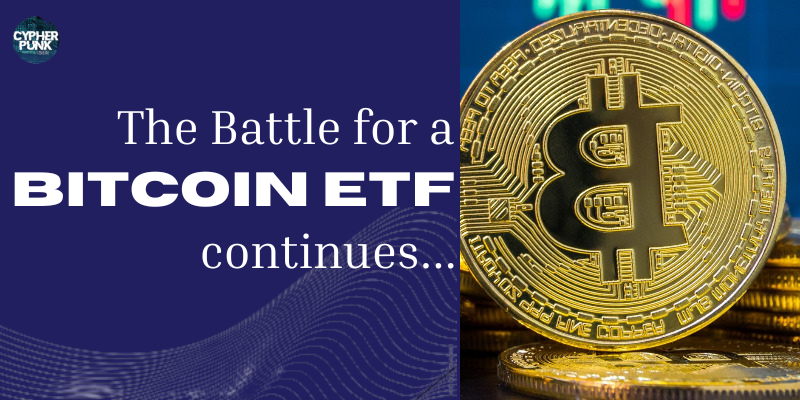 In the previous article, we outlined the concept of an ETF, its importance, why having a spot Bitcoin ETF would be a great win for crypto adoption, and also how far we've come in getting a spot Bitcoin ETF proposal approved by the SEC. The recent events that have unravelled this week have proven so far that there is a chance for the crypto community to get a spot Bitcoin ETF proposal approved by the U.S. Securities and Exchange Commission (SEC).
Let's have a recap of what went down.
On August 29, the crypto community celebrated Grayscale's victory in a lawsuit against the SEC. This was as a result of the SEC's decision to reject Greyscale's spot-based Bitcoin ETF proposal on June 29, 2022, on the grounds that the products were not designed to prevent fraudulent and manipulative practices.
Greyscale's legal action against the SEC
The crypto asset manager, Grayscale Investments, which has over $12.9 billion of assets managed in its Grayscale Bitcoin Trust (GBTC), submitted a proposal to convert its trust into a spot Bitcoin ETF on October 19, 2021. Following the disappointing outcome from the SEC the following year, Donald B. Verrilli Jr. (senior legal strategist at Greyscale) filed a petition for review with the United States Court of Appeal for the District of Columbia Circuit. Verrilli argued that the SEC's decision proved that the commission was acting arbitrarily and capriciously by failing to apply consistent treatment to similar investment vehicles, and thus, they would be pursuing a legal challenge based on the SEC's alleged violation of the Administrative Procedure Act (APA) and Securities Exchange Act (SEA).
According to Aug. 29 court filings, U.S. Court of Appeals Circuit Judge Neomi Rao ordered the SEC to approve Greyscale's petition for review and the GBTC listing application. Judge Rao found that the SEC did not provide any justification for its decision to deny Greyscale's petition for review, stating that the SEC's denial of the application was inconsistent with the approval of a pair of futures Bitcoin ETFs.
"The underlying assets (Bitocin and Bitcoin futures) are closely correlated, and the surveillance sharing with the CME is identical and should have the same likelihood of detecting fraudulent or manipulative conduct in the market for Bitcoin and Bitcoin futures." Judge Rao said.
Hope for the crypto community
Although a victory was concealed, there was no guarantee that Grayscale's spot Bitcoin ETF would eventually be listed, but it gave the crypto community a glimpse of hope and increased the likelihood of a spot Bitcoin ETF in 2023, considering that a horde of firms have tried getting their proposals accepted by the SEC. Bloomberg analysts James Seyffart and Eric Balchunas estimated a 75% chance of a spot Bitcoin ETF launching in 2023, with the hope of it being a "done deal" by the end of 2024.
In a thread posted on X (formerly known as Twitter), Balchunas said, "James Seyffart and I are upping our odds to 75% of spot bitcoin ETFs launching this year (95% by the end of 2024). While we factored Grayscale's win into our previous 65% odds, the unanimity and decisiveness of the ruling were beyond expectations and leave the SEC with very little wiggle room." Seyffart also confirmed in a post, saying, "A lot of people were asking yesterday. Eric and I moved to 75% for 2023 launch of a spot Bitcoin ETF, and we think it's almost a done deal that we will have one launched by the end of 2024."
A big loss for the SEC
A finance professor at Indiana University, Vivian Feng, said, "The SEC can't keep saying no; people will challenge them legally. It doesn't look good to keep losing in court; even though they're the boss that decides yes or no, getting themselves into a lawsuit doesn't put them in a positive light."
"Beyond the legal loss, there is also the PR loss (which matters because it sets narratives and changes minds). And this got covered far and wide in mainstream media, including the NYT, WSJ, CNN, AP, ABC, & on and on. We think the legal and PR loss will combine to make denial politically untenable." Balchunas noted.
Nathan Geraci, President of The ETF Store, pointed out that the SEC had three possible options: either approve the conversion of Grayscale Bitcoin Trust (GBTC) into a spot Bitcoin ETF, or they could deny it for some other reason. The third, which is most unlikely, is where the SEC forces the closure of existing futures-based Bitcoin ETFs.
The SEC delays its decision on all spot Bitcoin ETF applications
Considering the big loss the U.S. Securities and Exchange Commission (SEC) took from the lawsuit, there were speculations about the SEC delaying ETFs from proposals from other firms.
On August 31, two days after the court case, the SEC announced that it would be designating a longer period in which it may review spot Bitcoin ETF applications from WisdomTree, VanEck, Bitwise and Valkyrie, BlackRock, Wise Origin, and Invesco Galaxy, amongst others.
Many had expected the SEC to reach a decision as to whether to approve or deny Bitwise's proposal first, as its deadline was September 1–4, but some experts predicted that there was likely to be a delay considering that the court case had just happened.
"We're expecting delay orders this week on a bunch of the applications. We see approvals as highly unlikely so soon after the court decision." Seyffart posted.
The new deadline for Bitwise has now been posted to October 16, while Wise Origin, Galaxy, and WisdomTree are October 17. Valkyrie has its own on October 19. The regulator has a total of 240 days from when it first begins its review of a proposal to make a final decision (to approve or deny). Though the SEC has tried all in its power to postpone or prevent a spot Bitcoin ETF from getting approved, there is much hope that we will see one soon.
"We will not be surprised if the SEC delays, given that the ruling just happened. That said, I'm not sure timelines will matter as much in this situation; it's probably more likely we wake up one day and hear the SEC has given in and a launch is imminent."