State of the Market
Decred Community Roundtable 2 - Decred as an interoperable market place
In this show, we're exploring crypto as a store of value vs crypto as spending money. And the underlying values of the Decred project.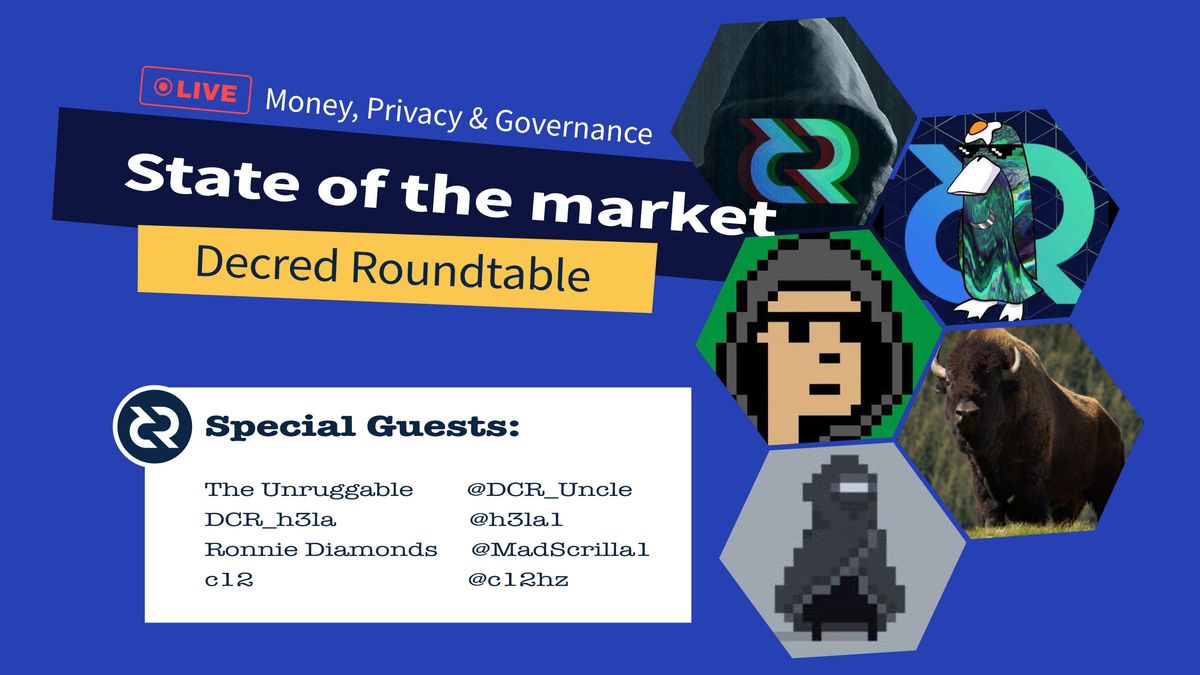 LISTEN TO THE PODCAST:
🔔
Set your reminders, we go LIVE – Sunday, November 6th 2022 – 1pm UK TIME
Decred and the State Of The Market is brought to you by @Exitus and @DecredSociety and aims to look at current social, economic, and crypto news and how it relates to Decred. This time, we're joined by three community members DCR Uncle, Ronnie Amato, DCR h3la and C12 to talk about all things Decred and the crypto space.
LIVE STREAM AGENDA:
Introductions: Let's start by finding out a little about each of our community members. Backgrounds, when they got into crypto and how they got into Decred and what they are up to now?
What do you feel are Decred's strongest features at this point?
DCR Uncle – Participation, there are a variety of ways people can get involved with the Decred project and help it grow. Could you share your experience of setting up and running a VSP and why this service is important?
Ronnie – Could you talk more about the marketing ideas you put forward in your Q&A article and your idea for a DCR marketplace and circular economy?
C12 - Could you talk about your experience with game development and your thoughts on crypto being used in game?
SOV vs MOE - A project aiming to be a store of value (SOV) has a different design goal to that of a project aiming to be a medium of exchange (MOE). e.g. some projects do low fees on the base layer where others can't. What are your thoughts on this, and how do you feel Decred has positioned itself?
Marketing is always a big topic when it comes to Decred, and we're lucky enough, in this discussion, to have contrasting views on the topic. What direction should we be moving in, and what should we be looking to avoid or stop doing?
What kind of proposals would we like to see on Politeia, and how should proposal owners aim to improve the structure, evidence, and outcomes of their proposals so stakeholders can make more informed decisions?
Is submitting a proposal the best way of bringing new people to the community? And what initiatives are we currently missing, or would like to see?
Peer to peer exchange, have you guys used DCRDEX and if so, what are your initial thoughts?
What other projects are you interested in, or are there any projects that you would like to see added to DCRDEX?
Community Questions
Enter your questions below before the show starts, or in the YouTube comments during the show.