When looking for cryptocurrency marketing content, you quickly realize that most of the investment is made by crypto exchanges.
Marketing is the activity, set of institutions, and processes for creating, communicating, delivering, and exchanging offerings that have value for customers, clients, partners, and society at large. It's a process adopted by almost any company or project that tries to sell or promote a product, allowing customers to become aware and build opinions around the many brands exposed. This article will present some marketing strategies used by different projects and exchanges, and highlight the most effective ones.
Cryptocurrency is rapidly gaining momentum. The number of businesses accepting Bitcoin surged by 708 percent in 2018, from 1,789 to 14,113. Since 2018 the number of places where you can pay with cryptocurrency has doubled. Now there are almost 30,000 places where you can use crypto to pay for goods and services.
The Crypto market is still new despite its enormous value. Explaining and selling a digital currency to the general public can be a real challenge for projects. Many people still don't comprehend crypto and what type of benefits they have as a currency or investment. Usually, their information about the market comes from the traditional media or friends who are interested in a project. It is also possible to observe that it is a very unpredictable market, the graph below shows that the countries where cryptocurrencies are most used have changed dramatically in the last two years.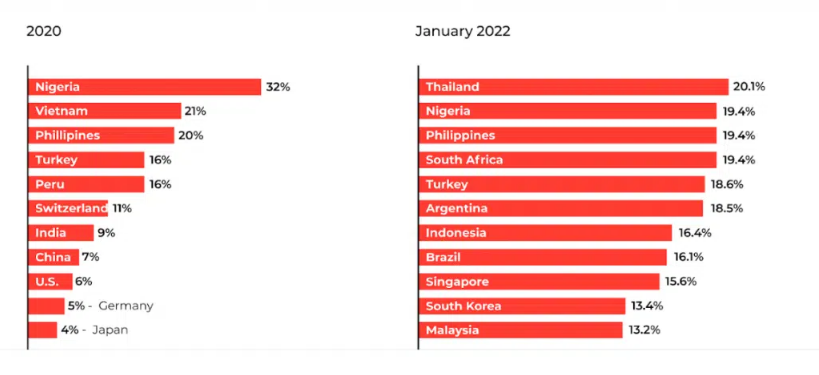 When looking for cryptocurrency marketing content, you quickly realize that most of the investment is made by crypto exchanges. Maybe the most commented ad was the video made by Crypto.com, with the presence of Matt Damon.
This commercial brings us an attractive concept, going beyond the usual futurism shown by many exchanges. It communicates that people who have believed in innovation throughout history were rewarded by fortune. The marketing in this campaign was not only made by the ad, there was also a charity background, Matt Damon received U$1 million dollars in a donation for his clean water initiative Water.org. Although the campaign had a big repercussion, there were many critics from the crypto community since it was launched right before a bear market moment, originating many losses among people inspired by the ad.
A very creative ad was published by the exchange E-Toro in 2018.  It used the misspelled version of "Hold" featuring the Game of Thrones actor Kristian Nairn (who had "Hodor" as his unique phrase on the show), creating a very engaging joke. The ad was launched while the TV show was airing, it used the show hype to feed curiosity about cryptocurrencies. That commercial was praised for using an inside joke from the crypto world, relating it with a remarking phrase from the most popular tv show during the time, an intelligent strategy since it was able to create a bond between interests and engage both publics.
When analyzing the marketing strategies used by crypto projects, we can observe that they are not like the ones made by exchanges. The marketing of these segments usually consists of explaining the perks and differentials of each cryptocurrency through videos or interviews with developers. Many of these projects don't even have an active marketing presence on Social Media, which makes their approach to new audiences more difficult.
Ethereum, for example,  is the cryptocurrency project with the second-largest market cap and has no strong presence on Twitter, the favorite Social network for people interested in crypto. Most Ethereum posts are Retweets of events and information involving the coin, even though the page has 2.2 million followers and some interesting partners like @WeekInEthNews (a website with a compilation of Ethereum news each week). Many other networks, like Solana and Cardano, have a similar way of working on their Twitter.
A project with an engaging approach on Twitter is Polkadot, going further than updates and events. Polkadot hosts Twitter Spaces, where people can learn and interact by hearing the project experts, the profile also engages in explaining and debating the updates on the network.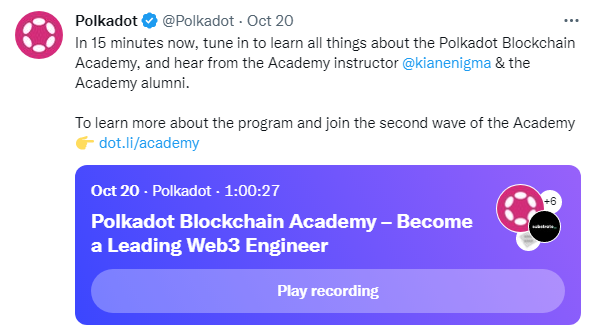 When looking at our project it's easy to comprehend that Decred received a marketing boost with Decred Magazine. Our Community has created a fantastic platform to share all types of content involving Decred. Here, anyone can get involved or find articles, podcasts, videos, and art for the project. Decred magazine is already present on Twitter and Instagram,
What steps do you think Decred and Decred Magazine should take next to improve the project marketing?