Bison Relay
Bison Relay updates to version 0.1.4
Bison Relay v0.1.4 has been released! Developers are stampeding forward and trampling bugs under their hooves, so users will notice everything is getting quicker and smoother.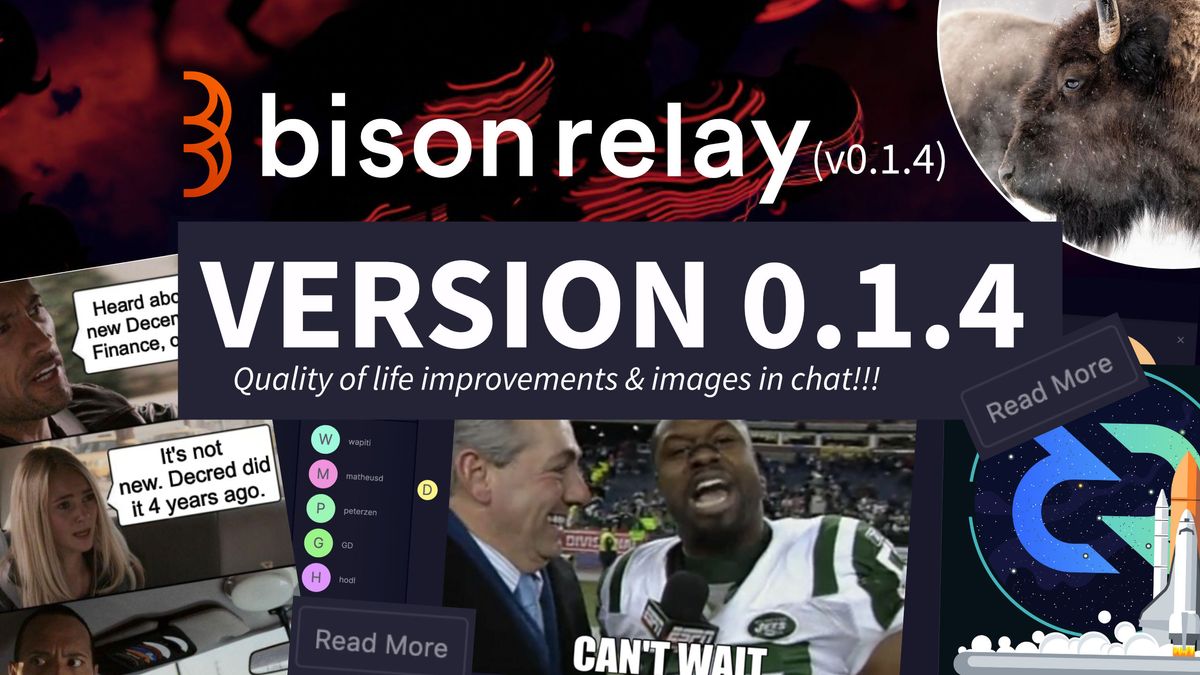 Let's have a look at what's new:
The download page on Bison Relay has seen a significant improvement in usability, You no longer need to go to GitHub to install your version. There's also an indicator that Bison Relay will be coming to Mobile very soon.
Massive improvements have been made to software loading and relay times, with plenty of behind-the-scenes Increased resources and efficiency boosts.
Oprah, a new kind of Bison Relay bot that crawls the br network by following users' posts and kxing with new users who post comments. Oprah also pays tips to users that make substantial post contributions and comments. To speed up Oprah finding you, comment on JYP's post, and she will appear in your list of followers. Make great posts and start getting paid by the Oprah bot.
In the News Feed, new posts area – you now get a notification of how large your post will be. This helps you to keep the size to a minimum. Currently, 1 KB = 1 atom to send and receive.
Groups and chat now have numbers to display unread chat items
On the chat page at the bottom – there's a new button to list last received messages, this page also includes a ratchet reset if you are having issues seeing particular users' messages.
Next to this icon is the paper clip icon, which allows users to add images to their chat. I would recommend compressing these in advance, so you don't end up paying a high fee, my recommended size is about 40kb which will cost 40 atoms to send.
Clicking on a user's icon now shows their profile links on the right, rather than covering the followers list. This makes clicking through your followers a lot quicker. It would also be good if this display was included for the user icon in the chat and on the news feed page. This would make it a lot quicker to tip users for their posts and comments.
The final user improvement is the settings area. Currently, you can change the size of your text, but eventually, you'll be able to customise the theme of Bison Relay more extensively.
As you can see, a lot has been done to improve the user experience of Bison Relay. Considering br has only been available for two months, it's really impressive how far this app has come in such a short period of time.