Bison Relay
Bison Relay updates to version 0.1.3
It's incredibly impressive to see how this project is moving forward, the improvements being made here may seem minor, but creating a streamlined user experience for non-technical users will make onboarding a lot easier.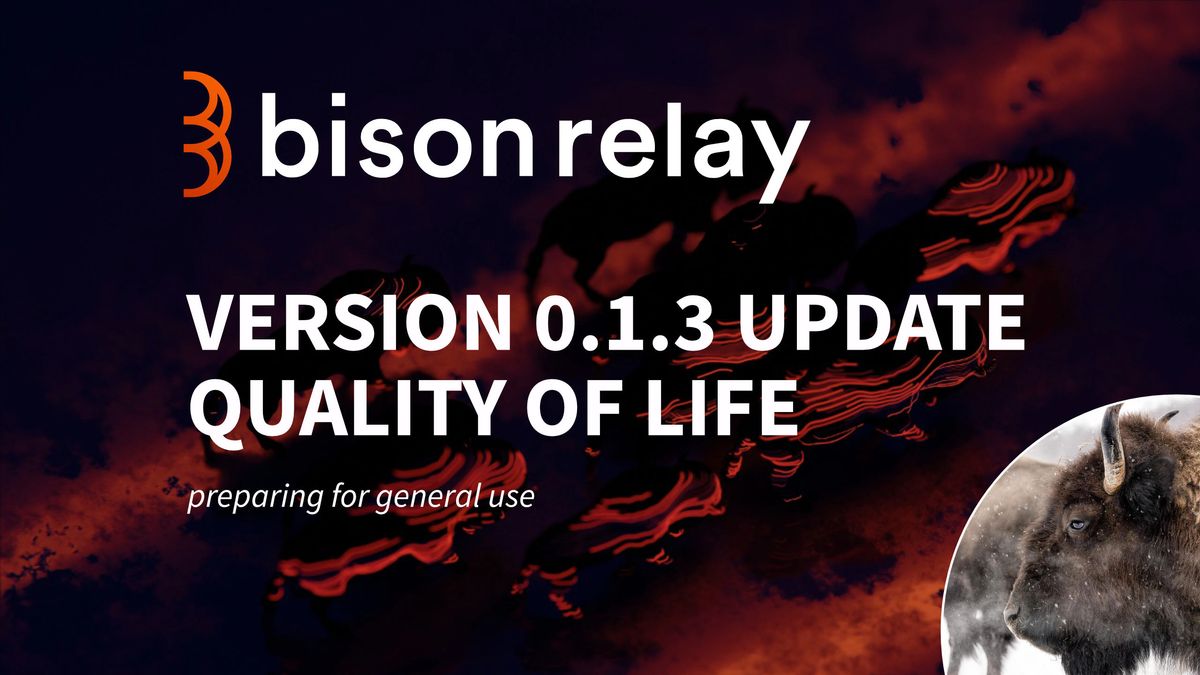 A high-priority focus for Bison Relay over the coming months is quality of life improvements, and making the product ready for general use. At the current time, there is a use-base of around 50 to 70 people. A large portion of these users are also testing and reporting bugs and issues. If you're interested in reporting, the page to visit is https://github.com/companyzero/bisonrelay/issues. Before reporting, you should read through the current issues to make sure the one you are experiencing is not already there. If it is, you can add a comment to acknowledge that you are also experiencing the problem and give further details. At this time, there are 37 issues being worked on and many more that have already been fixed or resolved.
Protocol Improvements: Behind the scenes, there's been a lot of work done to improve the load times and efficiency of Lightning Network channels. This is now noticeable when you open Bison Relay and within a few seconds messages and posts are delivered and ready to read. Before these updates, at times, there were delays that would make you think there had been no activity since your last visit. From a user perspective, this improvement helps with engagement, especially for those that switch on for short periods of time to check for updates and a regular dose of crypto news.
Backup and restore wallet: Importing a seed phrase from a previous Bison Relay install is now possible. Currently, it's not advised to have the same account installed on multiple machines. It's also critical to note this seed phrase is for the wallet, and on-chain activity, only. It doesn't include your Lightning Network channels.

Backing up and restoring lightning channels: is now available from the "LN Management" tab, in the "Backup" area. Backing up your LN channels will reduce the chances of losing funds locked off-chain in the Lightning Network. It's significant to note to restore your full account, you will need to back up both your wallet seed phrase and your Lightning Network channels. Each time you close and re-open channels, this backup file, will need to be re-saved to prevent loss of funds. To back up, click the "Save SCB file" button and save the file somewhere safe. If and when you restore, click the "Restore SCB File" button and locate the file you saved.
Creating and closing Lightning Network channels: is now a lot easier and fasted. The setup page offers a warning that having multiple channels pending will cause delays in setup. Furthermore, the user experience on the channel setup page has removed the ability to set up another channel whilst waiting for pending channels to become active. This helps prevent users accidentally setting up multiple pending channels (which I've actually done on several occasions). Setting up and closing a Lightning Network channel takes three block confirmations. This is the case for Both the outbound and inbound channels. Depending on average block production times, this can take from 10 minutes to 30 minutes for each channel.
News feed: Images have currently been removed from the news feed due to some issues with channel overload. These images are still viewable inside the post. The aim is to bring this feature back in a future version, but limit the size of images. From a personal perspective, it would be great to see the news feed have a more formalised design. For example, titles all having the same font size, descriptions limited to a number of characters and additional inserts for an optional link and cover image.
Subscription management: The newsfeed subscription area now gives users the ability to unsubscribe to other user's remote posts. Giving you more flexibility in whom you follow and the information you receive and download.
Bison Relay Chat Bots: are now available. These bots send and receive group conversations from Bison Relay and other popular Decred social media platforms, all conversations can be viewed and replied from Bison Relay. Currently, these bots communicate with Telegram, Matrix and Bison Relay.
A few areas that will be improved in the chat and news feed going forward will be, messages will no longer be removed on re-start; the scroll bar will start from where you left off, maybe even highlighting the last message read. Presently, the scroll bar goes back to the top of the page when you visit the news feed and then return. Engagement icons would also be a considerable plus, as this is an easy method to display interactivity towards someone's perspective.
In the news feed area, I'm looking forward to comment notifications on posts. Presently, on GUI you have to manually check for post comments, which isn't the end of the world, but it does mean you're likely missing conversation and activities as the posts comment feed grows and evolves.
As always, updates are coming in thick and fast, this video will be out of date quickly. It's incredibly impressive to see how this project is moving forward, the improvements being made here may seem minor, but it's good that usability is the highest priority right now. Creating a streamlined experience for non-technical users will make onboarding a lot easier.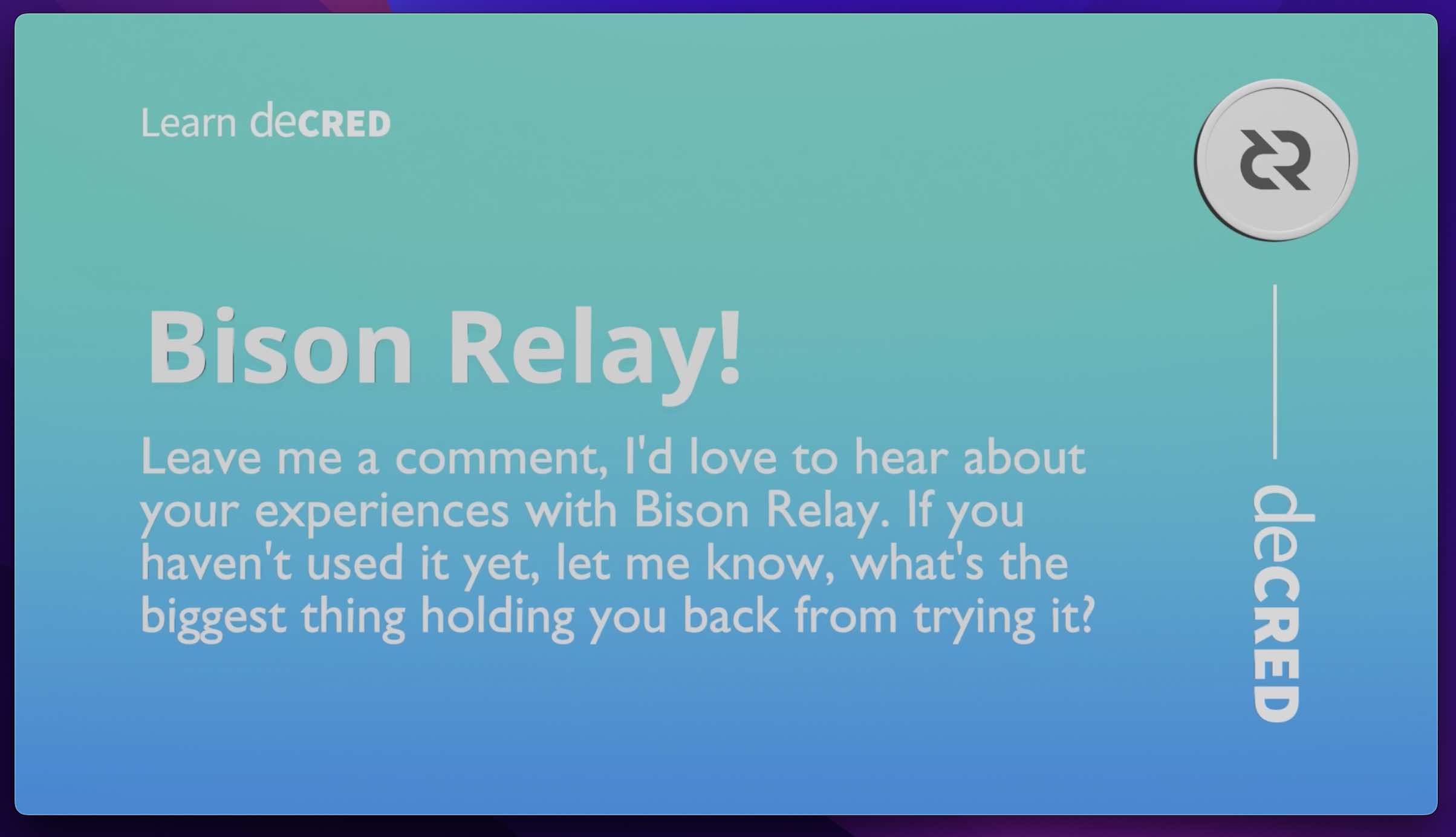 Engagement is king – Leave me a comment below, I'd love to hear about your experiences with Bison Relay. If you haven't used it yet, let me know, what's the biggest thing holding you back from trying it?