State of the Market
2022 the year of the bear
Which piece of news surprised you the most in 2022, and how did it change the space for better or worst? In the case of Decred, we've achieved several monumental milestones.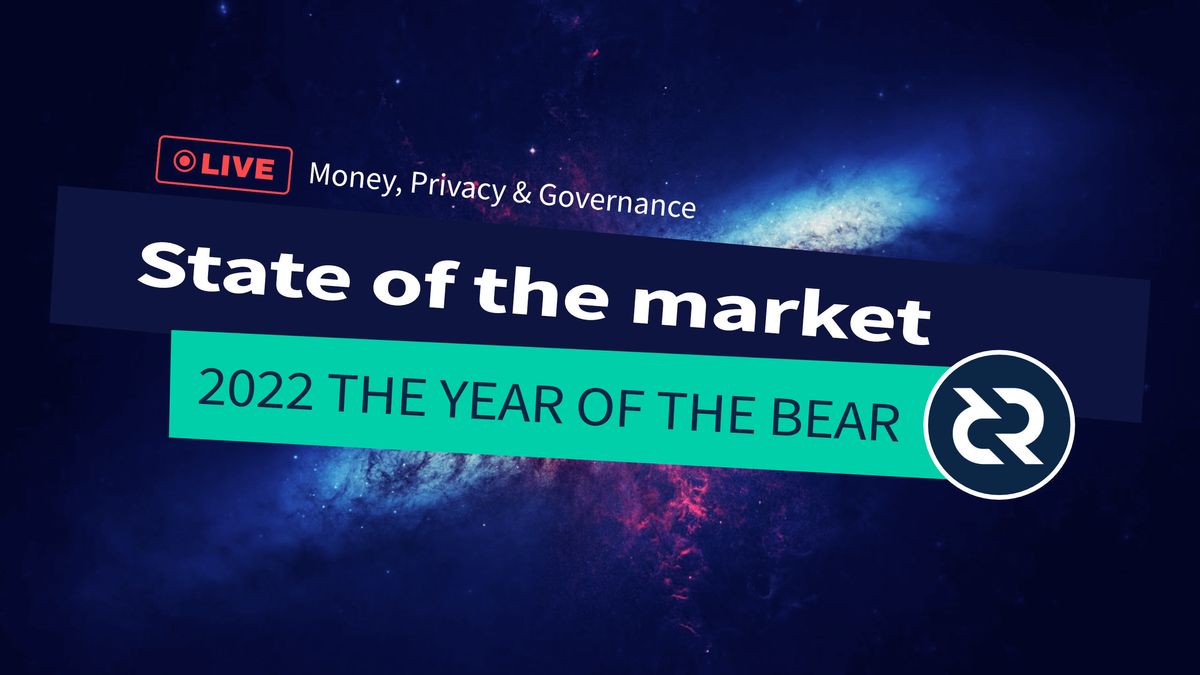 Decred and the State Of The Market is brought to you by @Exitus , @Tivra and @DecredSociety and aims to look at current social, economic, and crypto news and how it relates to Decred.
As this is the last episode of the year, we're taking the opportunity to discuss some of the big event and how they've impacted Decred and the space in general.
LIVE STREAM AGENDA:
Decred stats from year open to December 1st 2022:
Decred Price: Jan 1st $70, current $20
Decred Hash Rate: Jan 1st 349phs, current 66phs
Decred Staked Value: Jan 8,486,667 dcr (62%), current 9,538,011 dcr (65%)
Treasury Value: Jan 664,459 dcr, current 830,000 dcr
Decred year in review:
Jan – Decred Release v1.7 series, DCRDEX Release v0.4. Series
Jan – Politeia successfully proposed a new plugin architecture for Decred's governance / web platform
May – Decred moved to version 9 of the protocol, which included 4 consensus votes / changes. Including: Decentralised Treasury Spending, Explicit Version Upgrades, Automatic Ticket Revocation and PoW/PoS subsidy split.
August – DCRDEX Release v0.5 series
November – New website with a stream lined approach for the Decred message
Crypto year in review:
For most, 2022 will be seen as the start of the bear cycle. Decred however was one of the first crypto project to start this downward trend in April 2021.
Jan (ongoing) – Saw an unprecedented amount of DeFi hacks and code exploits leading to people losing their funds in multisig protocol wallets
Ronin Network: Loss – $620 million
Wormhole Bridge: Loss – $320 million
Nomad Bridge: Loss – $190 million
Beanstalk Farms: Loss $182 million
Wintermute: Loss $160 million
Elrond: Loss – $113 million
Horizon Bridge: Loss – $100 million
Qubit Finance: Loss – $80 million
and the list goes on – https://beincrypto.com/top-ten-defi-hacks-2022-hackers-daring/
Jan (ongoing) – Not so stable "Stablecoins" depeg
HUSD, a stablecoin issued by Stable Universal Limited in conjunction with Huobi,
Waves-backed stablecoin USDN
UST (USTC)
May – Decred moves to majority proof of stake
May – Terra death spiral
June (on—going) – Zcash's privacy transactions are spam attacked, taking the chain from 31 GB to over 170 GB
July – Celsius, one of cryptos first lending protocols files for chapter 11 bankruptcy
September – Ethereum moved to proof of stake (locks stakes coins for the foreseeable future
November – FTX files for chapter 11 bankruptcy,
December – BlockFi and Genesis on the verge of collapse or bailout
Looking forward to 2023
What is the new Decred feature?
DCRDEX v1
Politeia plugins
TinyWallet2
Timestamp website improvements
New content – Twitter Spaces, New video proposal, articles etc.
And what would we like to see?